John Newton has received a good deal of attention this year, as the 200th anniversary of  the abolition of the slave trade in England has been celebrated with books and a movie about William Wilberforce.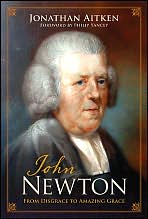 Newton was something of a spiritual support for Wilberforce, and he gave key testimony to parliament on the evils of the slave trade, evils he had seen first hand.
No doubt the most significant attention given to Newton this year is the new biography, John Newton: From Disgrace to Amazing Grace, by Jonathan Aitken.
Jonathan Aitken's own story is one of amazing grace.
I am very eager to read this book, and today (July 4) is an appropriate day to post this entry, since I see in the preface that Newton supported "the rebel American colonists in their War of Independence in 1776, from which he was forced to exonerate himself" (22)!