Many American churches are in many ways more American than they are Christian. This is reflected in the way that the "Christians" in these churches—and their kids—think about the world. For many, sitcoms, movies, and pop culture have a greater influence on what is considered relevant than does the Word of God. The standards by which things are evaluated, the measure of what is worthwhile, and the goals and hopes people have are shaped more by what they see on the screen than what they read in The Book.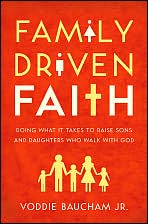 Voddie Baucham's book Family Driven Faith helpfully diagnoses this problem, and Baucham proposes a solution. This book strikes me as an important application of the truths explored by David Wells in his four books: No Place for Truth, God in the Wasteland, Losing Our Virtue, and Above All Earthly Pow'rs. It's as though Voddie has applied Wells' concerns to the family.
This book is a must read for anyone in ministry. If you want proof of the importance of what Voddie says here, go read W. Bradford Wilcox's essay in First Things, "As Goes the Family." This is one of those essays so important that Dr. Mohler summarized it on his blog.
If you care about the next generation being more Christian than American, you should read this book. And if you're in the Houston area, check out the first annual "Family Integrated Church Conference" hosted by Grace Family Baptist Church, where Voddie serves as the preaching elder.
I think that one of the highest compliments I can give to a book is that I'm going to recommend it to my sweet wife for her to read. This is a high compliment because as a mother of small children, her time to read is scarce, and because she is my own dear wife and the mother of my kids, I care very much about what she reads.
I didn't even need to recommend this one, though, because she read it before I could get to it myself!